I returned to the city two weeks ago, Sankar preceding me by about ten days. The usual west-to-east jet lag, involving long afternoon naps, lasted only a few days, but a muddled mental feeling lingered. I had stayed too many weeks in Minnesota, I'd had too much fun, and certainly had become caught up in too many absorbing plans for the near future when we move back. It was hard  to let Turkey back into my consciousness.
The weather beastly humid, I wondered what I would do to keep busy during the coming four months. Friends weren't available to help: one is overwhelmed with visitors; one is recovering from breast cancer surgery in the States; another is still away from Istanbul; and yet another is occupied with young children.
I should say right here that having visitors has been one of the most wonderful, unexpected joys of living in Istanbul. Not counting a year I lived in Boston, and 2 ½ years in Costa Rica (at a time which most of our friends stayed close to home because they had young children), I have never lived in a place that attracts tourists. I have rarely even had to host relatives because most of mine live in Minnesota.
Here in Turkey, all the right factors have converged to turn us into host and hostess. The majority of our friends are empty nesters, quite a few can afford the airfare here, and many are adventurous, having already traveled to more conventional places. Thus in the last two years, we have had eleven groups of overnight visitors, and three groups for whom we merely made dinner and went sightseeing. This is not counting four visits from our kids. We expect three more groups this fall—and Angela and Greg at Christmas for visit number five.
Every expatriate here entertains visitors. If we weren't also doing this, we would feel quite odd. But that brings me to a small, quirky downside of the visitor experience: when we are not entertaining guests, our local friends are. We can go several months without seeing friends here because either we or they are playing innkeeper.
If we could all get our Istanbul visitors on the same time schedule, life here would be perfect!
Okay, I have digressed. How did I get my head back to Asia Minor? First, by deciding to accept the first invitation that came along. In my case it was an invitation to go to a wine bar with book group friends (So often as I get older, I hear my inner voice saying, "I don't do" this or that. I need to watch that).
Well, the evening was fun. I spent time talking with an interesting American woman who runs a new boutique hotel, Kumru, in the Old City; reconnected with a friend who writes a wonderful food blog (My Turkish Joys), and chatted with a several teachers who work at Robert College, the most prestigious high school in Turkey. Imagine my surprise when one of them, a woman about my age, revealed that she taught English at Ithaca High School for thirty years and had Greg's girlfriend, Emily, as a student!
The evening not only drew me out of myself, it restored my profound sense of wonder in this city. More on the wine bar later.
Okay, to maintain my improved mindset and renewed wonderment, I decided that it's better to be overly busy than hanging around the apartment, bored. Our weekends are often less social than our weekdays, and this one loomed ahead with no specific plans.  So Saturday afternoon we decided to go to the Old City and explore, shop, drink and eat, and we ended up returning for more on Sunday morning. Herewith, our 24 hours in Istanbul:
Saturday 1:30 pm:  We set off walking down the hill through the picturesque village of Arnavukoy, passing big dogs sleeping in the middle of the sidewalks and cats lurking in doorways and under parked cars, toward the bus stop that sits on the sea road across from the Arnavutkoy pier.
1:50 pm: Waiting for the bus, I notice an older man and the word "Indian" comes to mind. I have no idea why; he doesn't really look different than a Turk, and I dismiss it.  But then five minutes later, Sankar hears him speaking Hindi to the woman with him. We don't introduce ourselves, but we wonder about this couple, probably not tourists, as we aren't close to any hotels—or big sights.
2:00 pm: A pleasant bus ride during which a headscarfed Turkish woman catches my eye to point out an empty seat right next to her. I nod thanks and decline. I will stand with Sankar and watch ships and the sea as the bus heads south.
2:20: Now onto the tram that will take us to our first stop, Cemberlitas, a column dating from the 4th century CE that used to hold a large statue of Emperor Constantine.
2:40: Near the column is an imposing old mosque named Nur-u Osmaniye that has recently been renovated. We skirt its exterior and walk into the main gate of the Grand Bazaar. We are going to finish a walking tour I found in a wonderful book called Istanbul's Bazaar Quarter, written by Anne Marie Mershon of Grand Marais, Minnesota. As soon as we enter the bazaar, however, Sankar wants to meet some of the vendors I talk about. So we head to a little hidden han (workshop) in the market that sells lovely ceramics; we visit the largest scarf shop in the bazaar; and we stop by another scarf shop, Seda Textiles, whose owners love 3M because a past Managing Director, Judith Garcia, did a lot of shopping there. Seda has under a glass counter photos of the luminaries that have stopped by. They include: Laura Bush, Jimmy Carter, Danny Glover and Liam Neeson. One of Seda's shopkeepers pins tiny nazar bocuncus onto our shirts to ward off the evil eye.
This symbol will protect you!
3:00 pm: Following the tour in our book, we exit the bazaar and find that entire block we are on is comprised of wholesalers of buttons and snaps! Sankar has been wanting to change out some buttons on two blazers, so we poke our heads into one shop.
"Is this just wholesale?" I ask, and the man smiles and beckons us in. He has thousands of buttons  and opens a multitude of tiny drawers to help us find the best set.
Sanker needs eight buttons for each suit coat, but the man puts aside ten or twelve of each type. When we ask him how much (he could say anything: two dozen new buttons would certainly be worth at least $15 to us and maybe $20 or $25), he replies 5 Turkish lira, about $3.00.  We thank him and leave, shaking our heads at another example of humble generosity.
3:20 pm: Our tour takes us into back spaces between the Grand Bazaar and the Spice Bazaar, and we walk on crowded streets filled with locals. The scent of grilled meat fills the air as we walk by tiny restaurants with slices of lamb on spits or a dozens of chickens roasting. We turn into a narrow passageway and discover a bedding store that sells gaudy coverlets. I photograph the most lurid one. . .
 . . . but then, for some reason, the young man asks me not to take any more pictures. We smile deferentially and I put the camera away.
3:40 pm: On another street we see a traditionally dressed man.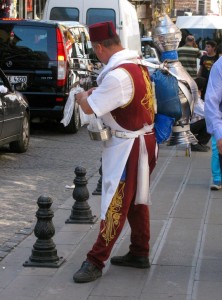 Costumed might be a better word, for men dressed like this generally sell marash ice cream, a chewy soft frozen dessert that contains a starchy root, which was known years ago in the States as "gum Arabic."
3:50 pm: Our book points out a little out-of-the-way mosque called the Atik Ibrahim Pasha Mosque. Although I have visited and admired many of Istanbul's grand mosques, I am a great lover of simple places of worship.
4:15 Now it's time to cross the Galata Bridge, full of fishermen on this breezy, late-summer day and take the old funicular up the hill to lively Istiklal Avenue.
The Galata Bridge, seen from the heights of Eminonu
Istiklal Avenue
4:35 pm: We start walking, eventually leaving Istiklal and walking downhill through a maze of smaller streets. Our destination: a tiny shop I've passed several times. I've admired its handcrafted, decorative ceramic Ottoman caftans, and now we pore over the selection and happily purchase two.
< 5:30 pm: It's time to walk over to the Galata Tower so I can show Sankar Sensus, the wine bar. The place is designed to resemble a large wine cellar, with tables set up in the middle. Sankar asks for a glass of Cabernet and I a rosé, and from a large appetizer menu, we order grilled vegetables and borek, flaky, savory pastries stuffed with cheeses, meats and various spices. Delicious.
Sensus Wine Bar
7:15 pm: We decide to eat at an Italian restaurant not far away and then, exhausted, take a taxi home.
9:30 pm: Legs sore, I fall asleep on the couch.
Next morning we wake up late and it looks as though we will miss church service. We recently started attending The Crimean Memorial Church, built to commemorate the 1850s conflict between Russia and the Ottoman Empire. It was during this war that Florence Nightingale became famous for her nursing work in Istanbul.
We first attended this Anglican church because of its sense of humor. Its interior features numerous hand-painted panels. In one the Virgin Mary holds the Baby Jesus, who in turn is grasping a large simit (a Turkish sesame bagel).  When we told a Muslim friend about Jesus and the simit, he gasped, certain such a representation would offend us. He was surprised that we found it funny. Now we refer to our new church as The Jesus Simit Church.
< 9:00 am: We decide at the last minute to get dressed and go to church.< 9:20 am: We're off. Sunday mornings are traffic-free in Istanbul and we arrive ten minutes before service. We greet a fellow parishioner, Allison, from Edina, Minnesota. She has worked as a high school administrator in Turkey for several decades 11:00 am: After service we realize we are not far from a source of good bread so we walk with Allison down Istiklal Avenue to the Fish Market passage, where Sankar and I turn left.  On the way to the bakery, we spot a young woman wearing the same top I bought last year for Angela. I don't usually go up and take photos of people, but she is walking ahead of me and I like her head-gear, more chic than the usual dowdy pointed headscarfs.
11:10 am: We pass a man vigorously scrubbing the sidewalk outside his restaurant with soap and water, and remark that we have never seen this in the U.S.
At the bread shop, we notice a Turkish favorite, milky desserts, in a case next door, and buy several for lunch. Our trip ends with a purchase of fresh peaches and grapes at a nearby fruit stand.
Turks adore milky desserts, and this kind is called "sutlac."
Note fresh figs (purple) in foreground.
Noon: I am at home now, delighted to at last be both mentally and physically back in Turkey. My legs ache, my feet have a few incipient blisters, and tonight I will be so tired I cannot move. And I am completely content.