The first refugee camp Turkey has built for Syrian refugees is located near Gaziantep, in southeastern Turkey. Last Friday I flew down to that city and met up with Sankar and one of his project teams. They had just arrived from government meetings in Ankara.  From Gaziantep we drove south to the small town of Kilis and then from Kilis a few more kilometers to the actual border.
This rather grand arch marks the Syrian border. The camp is just beyond it.
The camp was built this past April and May in a farmer's field.  From it, you can look south to low mountains that lie inside Syria. The eighteen-month-long conflict is not apparent here; indeed we heard that much of northern Syria lies in rebel hands.
Looking toward Syria
Twenty thousand refugees live at the camp. Guards control car access and pedestrians enter and exit through a turnstile on the north side.
Why such security? Several reasons. Turkey provides regular goods and services to each refugee it registers, and it wants to prevent fraud. Refugees wish to work outside the camp during the day (it turns out there is an agricultural labor shortage in the area) and Turkey wants to make sure the same people return each evening. And Turkey does not want its border camps to become conduits for terrorists. The country has a simmering conflict with its Kurdish minority, and several weeks ago a bomb went off in Gaziantep, killing nine people. Explosives analysis indicated unusual sophistication, likely the work of an outside group.
3M has designed and installed the security system at the Kilis camp. Each refugee shows an ID smart-card and uses a fingerprint scanner when leaving or entering the camp. Twenty Turkish Lira (about $13.00) is put on each refugee's card every week so they can buy incidentals at on-site stores. (Basic foodstuffs are provided free of charge).
Turkey has seven other camps of varying sizes awaiting security systems. The other day, Turkey's Zaman newspaper ran an article about refugee camps in Jordan. They also lack security systems, and residents complain of not being allowed to leave even though some have relatives in the country willing to house and feed them.
Sankar, 3M Turkey's Fatih Turgut, Sean Bai, a Chinese-American systems expert, and I attended troubleshooting meetings and toured the camp last Friday.
Residents live not in tents, but in modified storage containers. Hot, but they are equipped with ventilation systems. Some residents have installed air conditioners.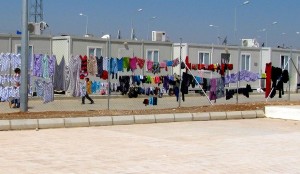 Many families have placed quilts and coverlets between their roofs and back fences to create shady patios. This homely touch helps individualize the dwellings.
We peeked into the clean, quiet hospital and dental clinic, both with canvas-covered shells.
Sean Bai looking toward the hospital
We stopped at the market to see how the ID system helps residents buy groceries.
At one of the three school buildings (elementary, middle and lycee,) we chatted with Syrian teachers, themselves refugees.
I was struck by the orderly, grid plan of the camp and the absence of any litter or garbage. The sense of competent control was not unlike that we normally experience in Turkey, but it was impressive given that the camp was hastily constructed, with traumatized people arriving regularly.
I saw one woman enter the camp administration building in tears. The other people we saw expressed little emotion, but we walked around aware we were in the midst of tragedy. Taking pictures of people seemed insensitive, so I have only a few to share here. Many of the refugees I saw had light green eyes, startling in their sun-browned faces. And even in the midst of poverty, Islamic dignity ruled: people's clothes were neat, clean and well-fitting. No rags, no inappropriate skin.
Waiting while parents shopped
Most of the refugees out and about on a sunny, hot Friday afternoon were women and children, children energetic and friendly, adults stoic. The women wore headscarves much like conservative Turkish women; a few wore the more concealing black abaya. Children looked in perfect health, though surely any sick or wounded kids wouldn't have been walking around outside for us to see.
<
Kids in front of school buildings
Young boys seemed to be having a particularly good time. As classes had not started yet, little Huck Finns ran around the camp at will, mischievously hopping up on ledges and improvising games of tag.
These pre-adolescent boys share a universal obsession.
We saw a young couple with a newborn and I was pleased I could come up with the Arabic question, "Is it a boy or a girl?  "Walad, a boy," the husband replied, with a wan smile. I tried to imagine their panicked, cumbersome flight.
Men leaving camp to work in nearby fields
Sankar and I also had some time to sightsee in and around the historical city of Gaziantep.  The city's most famous attraction is its extensive collection of ancient mosaics. These were collected from nearby Roman ruins when a dam flooded low-lying areas in 2000. We visited the upper tiers of one town, Zeugma, on the Euphrates River. In its heyday (from 300 BCE to about 200 CE), Zeugma apparently had about 20,000 inhabitants.  
Twenty thousand people. Same as the Kilis refugee camp.  And Zeugma's inhabitants were also unfortunate. In 256 CE the Persian Sassanids arrived and burned the city down. (Ironically, the resulting ashes protected the mosaics, which I will describe in a subsequent blog.)
I was struck by the proximity of an ancient city and a brand new refugee city. Two thousand years apart, but both steeped in war and suffering.