Just inside my health club here in Istanbul there is a small machine into which you step to have your street shoes encased in blue paper booties. The kind of booties you put on manually in the States if you are going on a fancy house tour.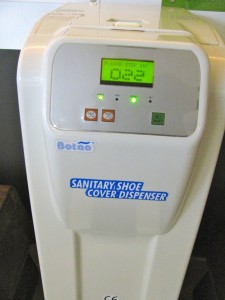 Like many other members, I generally ignore this machine, a mechanical extension of the Turkish custom of taking off shoes when entering someone's house. After crossing my apartment sidewalk, which is usually in the process of being hosed down, parking in a spotless underground garage, and ascending four flights in new shopping mall elevator, my shoes carry little residual dirt.
Today, however, the locker room attendant approached me with a pair of booties and "asked" if I'd like to wear them.
What could I say? I pulled the papery things over my shoes, then turned around and took my shoes off to don my running shoes. (Exercise shoes are exempt from the bootie requirement because it is assumed they are not worn outside.)
I have noticed that Turks leave their bootied street shoes outside of their lockers. I usually throw everything in, but today, chastened, I lined my shoes up neatly under a bench near other people's footwear, and headed to the treadmill.
When I finished my workout, I returned to the locker room, put my bootied shoes on, and then walked the five meters or so to the locker room entrance. "Where should I put these?" I asked the attendant, pointing at my booties. She pointed to two bins.
I didn't really think my booties were dirty, but I behaved myself and put them in the "dirty" bin.
Don't get me wrong. I like living in a country where people wash their windows and shake out their rugs on a weekly basis, wipe down their cars and buses daily and scrub sidewalks with soapy water. Granted, I was a bit surprised when I attended a cooking class and the teacher washed the eggs before cracking them ("When you think of where they come from. . ." she remarked). Turkish cleanliness is a way of showing not just love of possessions, but love of country.
But ever so often things go just a bit too far and I have to roll my eyes—or write a blog post.