A Costa Rican friend once told me never to compare countries. That is probably good advice, but I can't follow it these days. I am constantly comparing my life in Turkey and my life in Minnesota.
Things I like better in Minnesota:
-Female hairdressers
-Enough parking spaces for everyone
-Target! Sometimes I think of all the magnificent, glorious, historical buildings in Turkey and then I put them all up against being able to walk into Target store and buy a stylish version of just about anything I need at a low price. When I think that way, Minnesota wins the comparison. But when I think of the fact that probably that Turkey could obtain Target stores, but Minnesota will never be filled with Roman, Byzantine and Ottoman treasures, Turkey wins.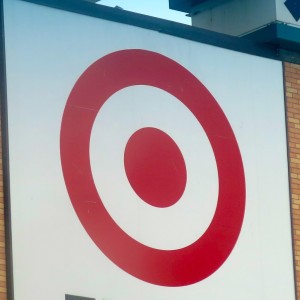 < -Lending libraries -Clothes-washing instructions in English Things I liked better in Turkey: -I never, ever felt afraid: People were always watching and concerned. I didn't realize I was so protected until I'd been in Turkey about a year. One evening I was walking up from the Sea Road to my apartment through the historic village of Arnavutkoy. At intervals on the sidewalks, foot-high pillars had been installed to prevent people from parking. Not paying attention, I swung my leg right into one of them, crashing my shin against the cement. The pain did not distract me from hearing a kind of collective "Owww," from unseen voices all around me. People are always watching in Turkey. -The prayer call. It marked the passage of the day and reminded me of God. Things I no longer have to think about now that I'm back in Minnesota: -Twisties -Ziploc bags Foods I miss: -Eggplant: This wonderful vegetable was available in so many different forms in Turkey: roasted and mashed to form a smoky-tasting hors d'oeuvre; grilled with kebab meat; stewed with lamb; roasted and then eaten cold in salads; and cooked with ground meat to form a delicacy called imam bayildi, the imam fainted.
-Freshly roasted, low-cost pistachios
Foods I'm glad to be reunited with:
-Jicama
-Baby back ribs
-Excellent bread in many varieties, including bagels.Somehow I think this relates to diversity.
Chez Arnaud bakery in White Bear Lake
Black Forest rye bread from the general store at Marine on the St. Croix


American habits that now perplex me:
-Assuming kids hate vegetables.At a recent gathering I attended, sandwiches were offered to both adults and kids, but for children, the lettuce and tomato had been removed.
-Eating alone in restaurants. This is something Americans, including myself, don't mind doing, but I think it would seem pitiful to Turks.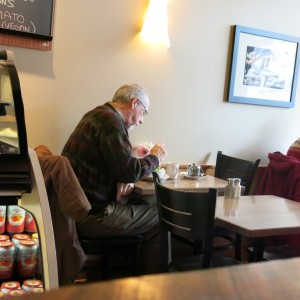 At Colossus Cafe, St. Anthony Park
Some statistics:
-Number of days back in Minnesota before someone asked, "Weren't you scared living in Turkey?" and then refused to believe me when I answered no: Five.
-First catalog company to find me here in MN: Orvis.(I wonder how long before the deluge.)
Ways to keep Turkey alive for me:
-My little town of White Bear Lake is soon going to have a Turkish restaurant called
The Black Sea
-There is a Turkish/Iranian cafe and grocery store near the University of Minnesota.
-My friend, Patti, has a Turkish housemate who I will soon meet.
-I can order Turkish products at Tulumba.com. Unfortunately, they are not cheap. Price for a package of Turkish tea: $9.99. Shipping: $9.61.
It is fun to do this kind of tallying. I guess what I'm really trying to do is decide which place makes me the most happy. Right now my answer would be: Both!