The actual number of flight hours from Istanbul to St. Paul-Minneapolis is about fourteen. But for us the trip home began in earnest when the movers descended on our apartment. And it lasted almost a week after landing at MSP, suspending us in the Jell-o-like lethargy that is jet lag.
In some ways, however, I started leaving Istanbul months ago. I started to leave when I began saying goodbye to seasonal treats. Grand gardens of tulips and hundreds of ordinary roadside displays in April. Goodbye, lale!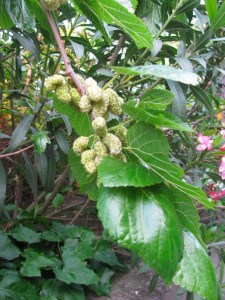 Mulberries in June, little white sweetnesses dangling from tree branches and fortifying my ascent from sea to apartment. Goodbye dut!
In summer the most luscious, scented melons I have ever tasted. They lasted for awhile after harvest, but finally in mid-fall I ate my last one. Goodbye, wonderful kavun!
Then it was time for pomegranates, bursting with seeds. They are still in season as I leave Asia Minor, but goodbye nar!
I was also saying a slow goodbye emotionally, but I didn't realize it. My Turkish language skills began to weaken. I could no longer understand conversations as well as I had back in May or June, and my speaking was more hesitant and (even) less grammatical. Perhaps my seven-week summer visit to Minnesota had initiated this mystifying decline.
"From now on, I'm going to listen to at least an hour of Turkish television each day," I declared, but then willfully avoided doing so. Even as I intensified my wandering around the golden city, checking off to-see items on a master list, some interior force was pulling me away. At times I could separate from myself and look dispassionately at this woman who would before long be far, far away.
I was prepared to feel sad about leaving Turkey, but I didn't count on emotions striking me unexpectedly. On the last day, after we'd already said our goodbyes to friends both Turkish and expatriate, apartment, and neighborhood, an unexpected route to Ataturk airport almost did me in.
Umit was not on duty so Taner, another company driver who we knew well, picked us up at 5:15 am. In Istanbul, traffic is never far from mind, but as he turned left out of the Radison Blu in Ortakoy, I smiled. We were in for a quick ride on a street usually clogged with cars and buses. The Sea Road was ours for free this morning. I have sat for hours on that road studying the shiny, black and white photographs of Ataturk's life that are hung on the park walls (there are several dozen pictures) just to pass the time. But this time we would have the road to ourselves! As we whizzed along, I busied myself trying to think of something pithy to say to Taner to mark this, our last ride in Istanbul, but all my effort did was produce a distracting self-consciousness.
We were crossing the Galata Bridge when I emerged from my reverie. Just ahead was Eminonu, the centuries-old, maze-like retail space I'd been most drawn to in Istanbul. I hadn't planned to see Eminonu again. Our usual route to the airport took us solely on newer highways west of the city. But here it was, in all its ancient splendor. And like me, just waking up.
Suleimaniye on top, with Rustem Pasha lower center
Eminonu's buildings rose up the hill, so crowded together that they looked as though they were standing on risers. It was as if the heart of Istanbul had called a special assembly to bid me farewell. I felt emotion rising in my chest; how was I going to manage without a trip to its fascinating streets every week or so?
The Suleimaniye Mosque, Sinan's 1558 masterpiece built for Sultan Suleiman the Magnificent, glowed from the top of the hill. It is the largest mosque in Istanbul. How many times did I walk up through crowded streets past Istanbul University to visit this house of worship? How many times did I gain a sense of peace from its soaring, taupe and orange interior and enjoy a timeless view of Istanbul from the green expanse on its north side?
The view from the Suleimaniye Mosque
Beneath Suleimaniye, still dark but its outlines visible, was the small Rustem Pasha Mosque, another Sinan jewel adorned with precious Iznik tiles. It was built on top of a block of businesses in 1563. I had been inside it a half dozen times and just the week before had climbed up to its courtyard on the way to a nearly-hidden spice shop. Greg was with me. "Take off your shoes and go into the mosque," I instructed him, and he did without argument, emerging some minutes later to remark, "It felt really good in there."
The Spice Bazaar itself, striped and surprisingly diminutive, and then the multi-domed New Mosque (my absolute favorite; I feel like I'm in a cloud when I'm inside its sanctuary) built in 1663. The plaza between the two, usually bustling with visitors and pigeons, was now dark and quiet. Behind them was the maze of little streets winding up to the Buyuk Valide Han, where we would climb to the roof and listen to what we dubbed surround sound prayer call.
How often had I walked in and out of the little Eminonu shops, buying boxes, cellophane bags, cooking chocolate, coffee cups, and Turkish Delight? Stopping for a morning su boregi or an afternoon kunefe at the outdoor café where a hatchet-faced man stood day after day grilling the melted cheese and syrup dessert. How many tiny tulip cups of tea did I down in shops throughout Eminonu? How many times did I wind my way up through the maze to the Grand Bazaar or walk down from the Bazaar in the late afternoon when bescarfed Turkish shoppers were out in force?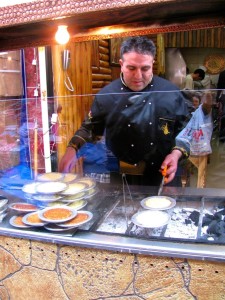 The kunefe guy
We expatriates joked that everything in the world could be found "behind the Spice Bazaar," and it was true. Buttons, fabric for a Christmas tree skirt, cellophane bags, Turkish coffee, traditional Turkish tea glasses, barbecue grills, outlet strips, candy, the red and white tea sets everyone uses, fake googly eyes for a children's craft project, umbrellas of every style and design. . . the list goes on.
Now across the Galata Bridge, Taner turned left in front of Hamdi Restaurant overlooking the Golden Horn, where we so often took guests for their first lunch in Istanbul. A moment later we were passing the Sirkeci train station, the last stop on the Orient Express. How I enjoyed pointing out this belle époque edifice to visitors on our way to Sultanahmet.
Sirkeci Train Station

Photo Arlene Kringle
Now we were on John F. Kennedy Caddesi. Emperor Theodosius' double-thick sea walls lay on our right, the current road having been built on reclaimed land centuries after the conflicts. Built in the 400s, Constantinople's sea walls were never breached. They are worn to an oatmeal-like texture in places, crumbling to nothing and then rising impressively in other sections. Several bus stops, and incongruous, lighted billboards—for KFC and something called Kofte-mania—stand in front of them.
The Theodosian Walls, albeit the land section. Former moat in front
On we go, one mile, two, and then finally a big corner chunk arises on our left, the Marmara Sea glistening just beyond it. This was where the wall turned at a right angle away from the sea to march across land. About four miles long, the land walls head north to meet the water at the Golden Horn. A section of this system, considered state-of-the-art in its day, was breached in 1453, allowing the Turks to enter the city and defeat the Byzantines.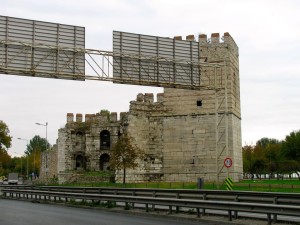 The corner chunk, behind road signs
The left edge of the "triangle" is the land walls and the other two edges are the sea walls. Constantinople was the most fortified city of its time
Now we are outside the walls, the Old City behind us. Soon we are passing handsome modern apartment complexes and a convention center. We turn and drive under the Soviet-like cement arch that announces Ataturk airport, and get out of the car pulling suitcases loaded with Turkish clothing, jewelry and gifts.
We have come down from our magic carpet ride. Back in America I feel an odd sense of exhilaration, a sense that this is also a beginning, that this, as the cliché goes, is the first day of the rest of my life. But I also feel, with great conviction, that nothing else I experience will be as profound.