Latin America had occupied my mind ever since I was an adolescent. Spanish was the first foreign language I studied, beginning at age 11. My first job involved counseling Puerto Ricans. In my mid-twenties I applied for health education jobs overseas, hoping to land in South America. It didn't happen; instead I was sent to Yemen. It wasn't until my late thirties—and my husband's transfer—that I got to live in a Spanish-speaking country, Costa Rica. But a later transfer to Turkey tipped my thoughts back toward the outgoing, heart-on-the-sleeve Middle East, where they have stayed.
Living in Costa Rica in the 1990s was not all I'd expected. I found the people aloof and uncommunicative, and as a trailing spouse, my life there was unproductive. My husband and I fell into the classic expatriate trap of resentful wife and guilty-for-dragging-her-there husband.
I did make some American friends there, however, long-term expatriates. And now, 21 years after leaving Costa Rica, I am on a weeklong trip to see them. We were young mothers, then, Corinne and Patricia, whose husbands worked for Dole. Mia, whose husband worked in the textile industry. And Sue, who, with her husband, operated a vacation lodge on Costa Rica's wild Osa peninsula.
I turned 40 when I lived in Costa Rica. During this trip I will turn 62. I am going to gather a few observations about how the country—and I—have changed.
An hour from landing and I think about something that might bring back memories. Costa Rica always had a distinctive, fresh, verdant smell. Once, some years after we moved back to Minnesota, we had a late spring day with just the right amount of moisture and green growth in the air. As I inhaled, I was brought back to Central America. Later that day, son Greg surprised me with, "Mom, today it seems like we're in Costa Rica."
I land at the spacious new airport and stay overnight with Patricia in the sunny Cariari section of San Jose. The next day we drive up to Corinne's house, so high in the mountains above the city that the view resembles that from an airplane. Yes, the freshness is still there.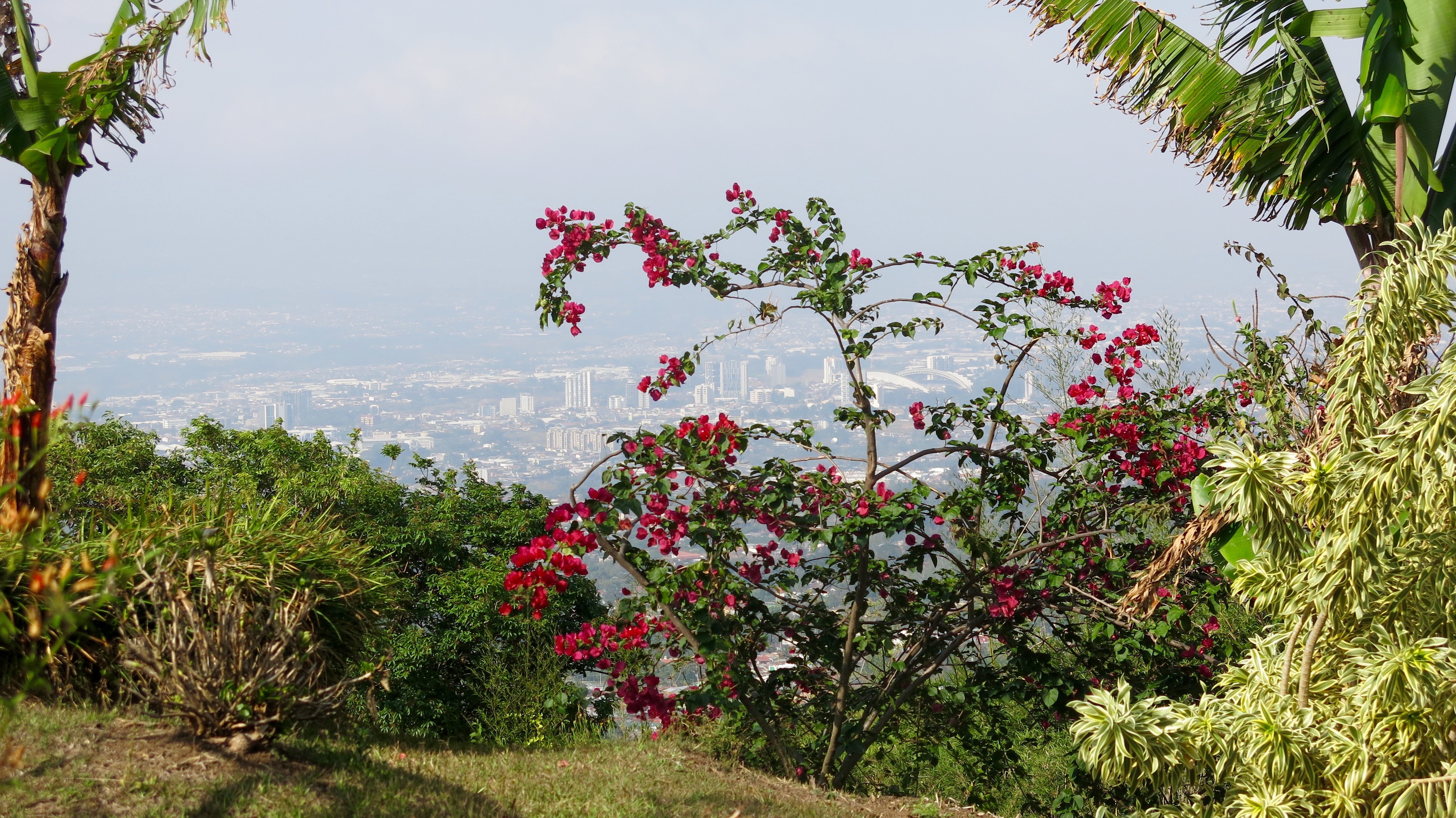 The five of us gather at Corinne's and start talking. We are all dealing with retirement or pre-retirement. Sue's husband died a year ago and, although two of her three children live in Costa Rica, she is unsure if she will stay. Mia spent ten years teaching English literature to college students, and literature and learning still absorb her. Patricia keeps busy with creative house projects and visits to her children in Denver and New Zealand. Corinne has become a yoga instructor. She shows us her studio and talks about her slate of upcoming courses. I have turned into a writer and ESL teacher.
The last thing I expected was to be reminded of Turkey, but when we head down to Playa Cocles on the Caribbean, I see dozens of Maersk shipping containers just like the ones that used to glide by my Bosphorus apartment. Back in San Jose, I see a display of bracelets under a sign reading, "Accesorios de Ojo Turco." Each bead features an eye that protects against the evil eye. And it turns out that my four friends have a delightful Turkish buddy, Aysegul, who ends up inviting us over for coffee one afternoon. With her, we talk about another reunion, this time in Istanbul.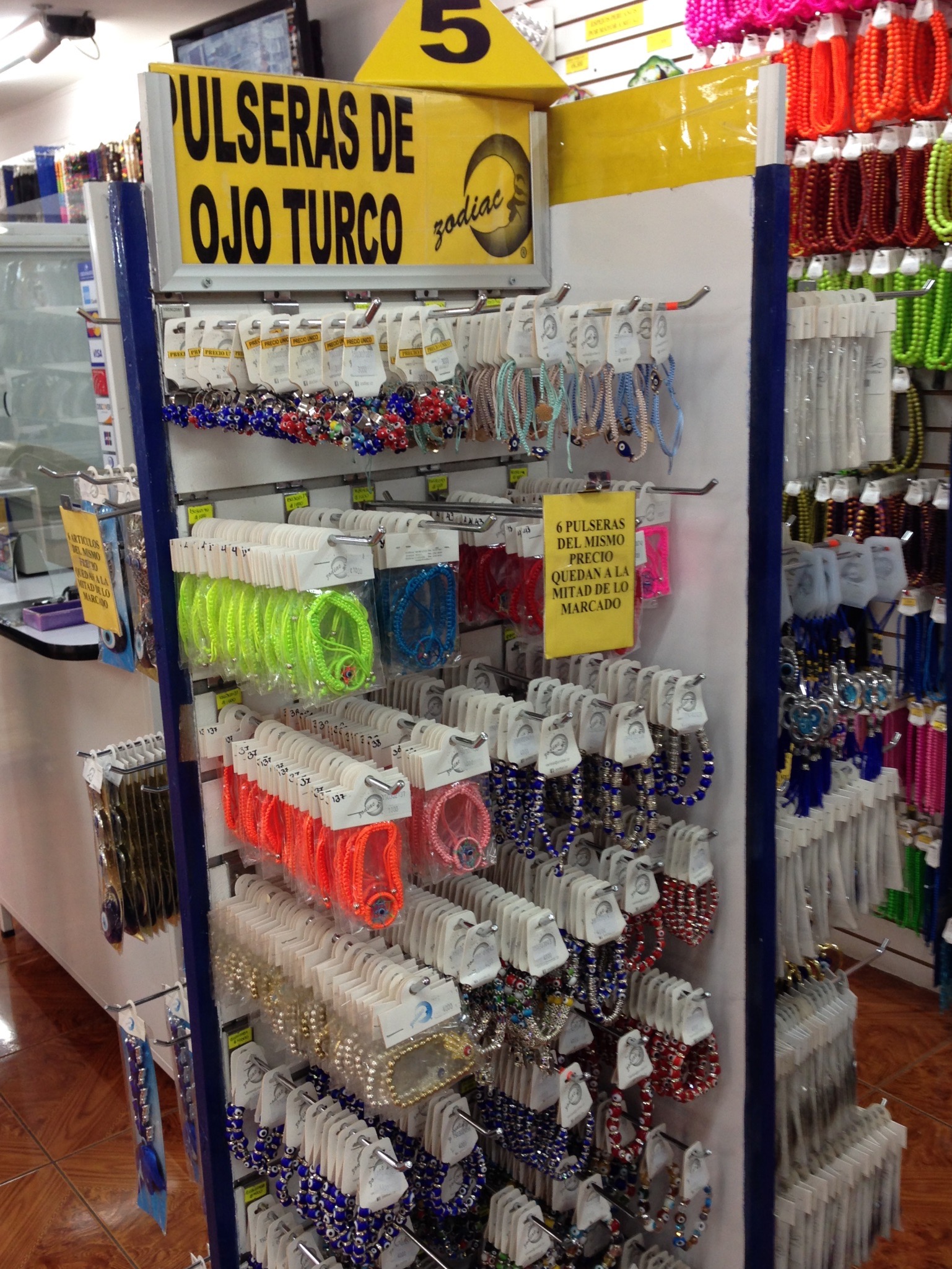 Costa Rica is more industrialized now, with Home Depot-like behemoths, and discount stores owned by Wal-mart. There European-based shops like Bershka and Mango, and luxe products, from Porsches to fine cheeses. Its roads are much better paved than they were in the nineties, but alas, construction has not kept up with what I'm told is a ten- or twenty-fold increase in cars. My friends bemoan the traffic and I hear them strategizing their trips around the city.
We talk endlessly about American politics and about our kids' challenges and accomplishments. Among us we have a filmmaker, a clothing designer, a public health worker, an engineer, an Eastern religions specialist, a marketer who is also a mother, a psychology professor, a yoga studio owner, a hotel administrator, a blacksmith/home builder, and a social media producer. We catch up on mutual friends who have left Costa Rica. We guffaw with laughter and at turns become thoughtful and sympathetic.
I begin to realize that, just because my husband and I were not happy in Costa Rica doesn't mean the whole experience was bad. I learned a great deal about myself that led to some difficult changes, and we did not behave the same way in Turkey. Now, attempting a tiny do-over, I walk around smiling at Ticos to see if I can coax some enthusiasm from them. Sometimes it works. I begin to think about more trips to Latin America. Back to Peru and Bolivia. Perhaps a trip with the group to Panama.
The trip has rewritten my memories.