Last month we traveled to a part of Turkey with evocative stone architecture and a mixture of Muslim and Christian inhabitants. Mardin, Midyat, and Hasankeyf lie in southeastern Turkey, an area long-ago named Mesopotamia, meaning the land between two rivers.
Buildings in this area blend with the honey-colored landscape.
Cliff caves look down on 5th century Deyr ul Zaferan monastery
A tomb outside the 13th century Kasimiye Madrasa faces southern Mesopotamia
Talented carvers with poetic souls have used their skills to soften windows, doors and edges of buildings.
Midyat home
Rose garden at Mardin Museum
Mor Sharbel Syrian Orthodox church, Midyat
Ulu Mosque, Mardin
Let's look at a few Syrian Orthodox Christian churches.
Deyr ul Zaferan monastery. Note the similarity with Islamic domes.
Mor Sharbel church bell tower
A designation both grand and quaint, in sixth century Kirklar Church
Bible cover, Mor Sharbel church
Aramaic teacher, Mor Sharbel church
Wall sconce, Mor Sharbel
Wall adornment, Kirklar church
Hand-painted curtain concealing altar, Mor Gabriel monastery
Hah Meryam Ana altar relics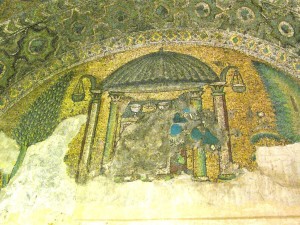 6th century wall panel at Mor Gabriel Monastery, believed to be the oldest mosaic in the Middle East
Mor Sharbel choir robes
Let us now turn to something more temporal, Hasankeyf, a town soon to be submerged by a hydroelectric dam. Situated alongside the Tigris River, it dates back to 1800 BCE.
Remains of Tigris bridge 

built in 1116 by the 

Artuqid

 Sultan Fahrettin Karaaslan. Cave dwellings in background.
Tile-glazed tomb of Turkomen Zeynel Bey, who died in 1473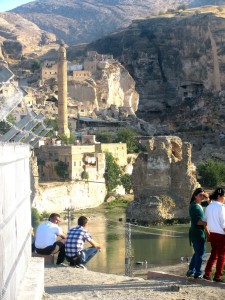 At sunset, Hasankeyf residents ponder a view soon to be obliterated
And finally, the inhabitants of Turkish Mesopotamia. They have shared the land for several thousand years. They have seen civilizations come and go. Very little seems to ruffle them.
Muslim women on a tour of Kirklar church