I left my full-time teaching job at the end of January, 2012. It had been a relentless amount of work. Four hours every day in the classroom and the same amount of time each day to prepare for the next lesson. I loved my colleagues and felt my department was well-managed. I was understanding and working well with my students. Still, their incessant talk while I tried to teach was disheartening. I never completely figured out the reason for this disrespect in an otherwise polite culture. My tentative conclusion was that Turkish students are pushed around a lot, reduced solely to one test score as they compete to see who will go to university and who will not be accepted at all. I wondered if they weren't taking their anger out on their teachers.
At any rate, I had finished working for pay in Turkey. Not surprisingly, I found myself with a lot of time on my hands. Although I planned to do a great deal of sightseeing (and did) in my last months in Turkey, I still had time to offer my services as a teacher. I placed an announcement to this effect on the expatriate women's listserv, and quickly received some replies. One was from a friend and long-time Istanbul resident who worked with Caritas, an organization that helps fulfill the social justice mission of the Catholic Church. "My Iraqi refugees need an English teacher," she told me. "Are you interested?"  I was.
Before long I was traveling to Elmadağ, a working class section of Istanbul near Taksim Square. I would teach in a rundown building on which hung an outdated plaque that read "Vatican Embassy." In addition to Caritas, the building housed the Don Bosco School, run by and for Iraqi refugees. (Don Bosco was a nineteenth century Italian priest who dedicated his life to teaching disadvantaged youth, and was later made a saint. Others continued his work by establishing schools named after him in developing countries.My husband attended Don Bosco high school in Calcutta.
Jian was a 23-year-old English teacher from a town that bordered Turkey called Zakho. She was Kurdish in ethnicity, and among the four languages she spoke was Aramaic, the language of Jesus.
"My whole life has been war," Jian told me as we chatted on the first day. "First, when I was born, the Iran-Iraq war was going on. Then, the Gulf War. I was two then. After that there were sanctions. And then when I was 15 years old, my country was invaded." Jian had fled Iraq with her family immediately after finishing college.
Another of my students was a 30-year-old computer programmer from Baghdad, who had enjoyed working in her field for several years. She told me that after the invasion, the majority Muslims in Baghdad had become hostile toward the Christians. She put her hands over her face. "I have seen bad things."
Describing life before the invasion, Jian told me, "Saddam Hussein, he loved the Christians."
"Really?" I said, astonished. "What do you mean?"
"He give us days off for Christmas, three days each year. And he was never bad to the Christians. We know he was bad to others. But not to the Christians."
A third student, Samira, vivacious and trilingual, had also studied to be an English teacher. She loved her profession and was eager to be resettled and continue her career. My other students were an engineer and a young mother.
My image of refugees from newspaper and television is of people wearing ragged clothing. But Jian, Samira and my other students wore nice-looking jeans, attractive tops, and stylish shoes, brought with them from their middle-class lives in Iraq, where as Jian told me, "all of our clothing comes from Turkey."
All of these young women were waiting to be placed either in the U.S. or in Australia, a process that could take several years. Jian and Samira were slated for Sydney, where they had relatives.
"Half of my town is already there," Jian told me. "It's Zakho II."
Arriving in Istanbul, these women had expected to spend most of their time at home. Their brothers had ordered them to do so, forbidding them to go out at all in the evenings. ("We are like Muslims in many ways," Jian told me. "That is because we grew up with Muslims.") But as it turned out, the Don Bosco School needed teachers, and when the church called, Jian's and Samira's families couldn't refuse. Jian and Samira were currently teaching elementary and high school students, administering exams, and developing curriculum for the school. On Saturdays they taught English to adult Iraqis, and Sundays were spent at church.
The experience had broadened them. Their much-loved priest at Istanbul's St. Esprit Catholic Church, was from Haiti, and his assistant was West African. "I had never seen a black person before," Jian confided.
Recognizing that their English was not perfect, they had signed up for classes with me. And so we started, working together each week on specific grammar topics they requested, and reading about a variety of issues to expand their vocabulary. Every week we watched an episode of the American television show How I Met Your Mother on my laptop. My Turkish students had loved that show, and they did, too. Indeed they were familiar with American media. To my surprise they told me that had watched dozens of episodes of Friends in Iraq, and had seen the movie Titanic multiple times.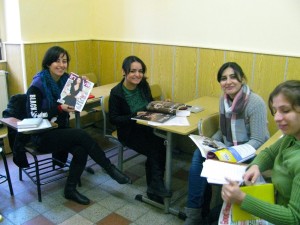 Looking at American magazines
Often as I watched my Iraqi students working on a grammar sheet or doing a reading, I couldn't help but think about the upheaval in their lives, and I had to catch myself from becoming emotional. How could I teach when I was trying not to cry?
I was quite accustomed to the Turkish culture and I'd had excellent experiences with other Muslims as well, so fondness for Islam came reflexively to me. But my students were eager to leave the Muslim world behind. Here in Istanbul, they were on minuscule budgets and didn't have the transportation or means to visit Istanbul's dazzling Christian and Muslim sites. Being Arab but Christian kind of set them at odds with their Muslim neighbors. I don't think there was unpleasantness, just little overt friendliness.
The Turks I talked to thought the refugees in their midst were getting resources unfairly, without having to work. The Turkish government, however, does not allow refugees to hold jobs.
Toward the end of my work with Caritas, I was able to attend an Iraqi Christian wedding. Held at St. Esprit on a humid June afternoon, the service, complete with bridesmaids, a flower girl and a ring bearer, was conducted in English, but at one point the congregation said the Lord's Prayer in Arabic.  Very memorable.
Deeply devout, optimistic, eager to work and raise families in their new countries, these folks will be superb assets to Australia and the United States. In fact, I told "my girls" nearly every week that I wished my country was getting every one of them.