The Turkish Republic does not officially observe Christmas, but. . .
. . . in the Old City, bolts of bright Christmas fabric are stacked near the entrance of a fabric shop,
. . . the local grocery store, Migros, has an aisle of decorations,
. . . an artistic Cihangir window features Christmas decorations–and a reflection of the author,
. . . this annual festival couldn't take place without the help of Turkish and other Muslim women,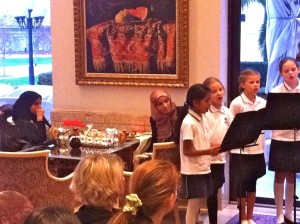 . . . and this student group was invited to sing carols at Istanbul's elegant Ciragan Palace Hotel.

(photo Ray Eby)
Every year in the States, talk show hosts rail against "taking Christ out of Christmas." Indeed intense American commercialism can overwhelm the religious aspects of the holiday. But it turns out the secular aspects of Christmas are the most portable. They easily transfer themselves to places with other beliefs.
People here in Turkey enjoy the coziness, the sentimentality, and the celebration of family and friends that Christmas provides. And those of us who've always observed Christmas feel welcomed and appreciated in the midst of their enjoyment. It adds immeasurably to my holiday that Christmas can be shared with my Turkish friends:
Hello dear Sue,

I like this time of the year a lot, christmast spirit you guys say and i love it. I made up my tree and I have a cd full of christmast song that i play during whole december 🙂

Burcu