Eastern Europe has been free of Communism for nearly a generation, but to me, it still seems relatively unexplored, an area of over a dozen countries poorly known here in the U.S.  Sankar has traveled to many of its cities for work, and has enjoyed them. It was time to go and take a look.
In February, we sat with travel buds Arlene and Scott looking at maps in our National Geographic atlas. Should we go to Romania? Sankar says it looks like Switzerland, but with bargain basement prices. How about Poland, with its huge northern forest and fascinating, preserved Krakow? How about Slovakia, where at a Bratislava hotel, Sankar was given a free night's lodging for being the first American to stay there?
After some discussion, we decided to focus on Croatia and Hungary. We had heard that Budapest was an ornately lovely city, and that Croatia had a coastline both scenic and historic. We would start in  Budapest and then rent a car and drive south through Croatia, looping back to finish in Hungary.
The Ottomans ruled this part of the world from the fifteenth to the seventeenth centuries, and I was hoping to see what they, and perhaps even their Byzantine predecessors, had left behind.
Hungary is landlocked, and its geography has been stable for nearly a century. Croatia is one of the world's newest countries, carved, along with six other countries, out of what used to be Yugoslavia.
The long, curving edge shows that Croatia received most of Yugoslavia's Adriatic coastline.
Arlene and I made our hotel reservations in March, including an airbnb apartment in Budapest. Then we put the trip on the back burner. Before long, however, it was mid-June and we were packing to go. After an overnight flight to Amsterdam and a short hop southward, on Wednesday, June 18, we landed in Budapest.
A Paprika of Discoveries
Our apartment was centrally located on the Pest side, decorated charmingly by IKEA. After a quick nap, we commenced touring the city. One of our first stops was the old Central Market, where we discovered the secret of paprika. It is simply red pepper powder.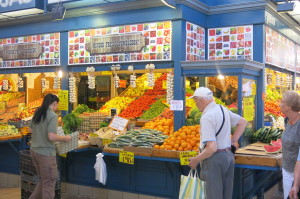 We gazed at dozens of impressive 19th century buildings, and admired the stunning Parliament buildings along the Danube. We rode the historic #2 tram along the Danube, and ascended in a funicular to St. Matyas Church atop Buda Hill. One evening we went to a "ruins bar," one of many bars built in old Communist buildings.
A Historical Reminder
An emotional highlight was The Shoes, a riverside monument to the Jews of Budapest. In 1944-45, a group of Jewish adults and children was brought to the river, ordered to take off their shoes, and then shot, their bodies carried away by the river. On the present day bank of the Danube, just a stone's throw from Parliament, are 60 pairs of shoes, representing those left on the bank.
A Brand New Country
On Saturday we headed south across flat green plains into Croatia. Our first stop was Varazdin, a picture-perfect hamlet in northwest Croatia. In the mid-1700s, Varazdin was the capital of all of Croatia. There was not much of Ottoman or Byzantine interest, but we enjoyed a lovely reconstructed Baroque downtown, a 15th century cathedral, and a restored 14th century castle.
The next day we headed to the coast, the land gradually becoming drier and more hilly. We stopped at  Senj (pronounced Senny) on the Adriatic to see what we thought was an Ottoman fortress.  Our National Geographic guidebook described it as such, and it was called a kula, meaning tower (the Turkish word is kule). But inside, the plaques and inscriptions we read described the fortress as having been built in in 1558 to fight the Ottomans.
Hmmm, interesting. I was skeptical about the information on the plaques–was it merely self-serving?– but once I got back home I uncovered a preponderance of sources that confirmed the fortress as Croatian.
Then along the winding coastal road to Zadar, which encompasses a peninsula, settled in antiquity. Zadar was laid out for trading in the 9th century B.C., taken over by the Romans in about 60 B.C. and then passed to the Byzantines in 550 A.D. The oldest buildings and fortifications include remains of a Roman forum founded by the Emperor Augustus in the third century A.D.
One building looked familiar, and I realized that I had become so accustomed to Byzantine stonework in Turkey that  I could recognize it almost instantly. It was a 9th century basilica, built right on the Roman forum, now called the church of St. Donatus. One of those rare moments when you realize you possess a new and surprising bit of expertise.
A Divided Land
In the Middle Ages, the Orthodox Christians of Constantinople were vying with the Catholics in Rome to gain converts. It was in Eastern Europe that these  maneuvers were taking place. Is it any wonder that the former Yugoslavia ended up partly Orthodox and partly Roman Catholic—and later, partly Muslim?
Onward the next day through Trogir, another island town—nothing Ottoman or Byzantine, but a fine, small castle called Kamerlengo built by the Venetians in the 15th century. We climbed to the top of it to view the whole town.
Then on to dazzling, unforgettable Dubrovnik, a medieval walled city smack on the Adriatic coast. I wasn't expecting this kind of historical splendor, and it was certainly the highlight of our trip.
Our innkeeper, a tall, gregarious woman named Simona, told me she had visited Turkey six times and loved it. "Dubrovnik was never ruled by the Ottomans," she told us. "It did pay protection money, however."  The city was under Venetian and then Hungarian rule in the 11th and 12th centuries, and became a tributary of the Ottoman sultan in 1458.  An earthquake destroyed much of it in 1667, and in the 1680s the Ottomans lost the light control they had over Dubrovnik.
We did not see evidence of Byzantine or Ottoman construction. One of our Dubronik highlights was walking atop the medieval fortification walls. Here are several of the many photos we took.
Our stay in Dubrovnik was too short, and we left a bit sadly. Arlene mentioned the idea of bringing her entire family for a visit, and that was soothing. We could also think of coming back.
Bosnia: Scary?
A few miles west of the city we turned north and headed through forestland into Bosnia to see the single span stone arch bridge at Mostar. Considered one of the best examples of Ottoman architecture in the Balkans, it was built in the 16th century, and designed by Mimar Hayruddin, a student of Sinan. The bridge was destroyed during the war in the 1990s, but rebuilt in 2003. The city was pleasant and its inhabitants friendly.
Then back to northern Croatia, with its forests and damp. We stayed in the middle of a park in an old mansion at Karlovac, and then headed via Zagreb back into Hungary.
Entering Zagreb our GPS struggled: it didn't like hills. While Scott and Sankar maneuvered, I focused on the scenery. Lovely, parklike boulevards with elegant houses ringed the city. Could 3M transfer us here? I wondered. Somewhat by accident, we ended up in the center of town, facing the quaint, tile-roofed main cathedral.
We enjoyed walking around the spotless, well-preserved Gornji Grad, or Upper Town, with its 17th century buildings. For lunch, we descended to the Lower Town and bought some borek, one of my favorite Turkish foods, a pastry dish layered with white cheese.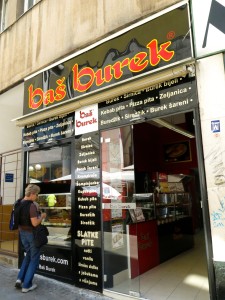 After that, several hours on a winding, picturesque road from Zagreb northeast to the Hungarian border. Miles of small villages with cozy-looking old cottages brightened by bunches of red flowers. (By the way, the weather was perfect every day: sunny and upper 70s to low 80s, and the roads, most part of an easy-to-use toll system, were in superb condition.)
Capital of Culture
Late in the afternoon, we arrived in Pecs, which in 2010, along with Istanbul, was named European Capital of Culture. The small city's historic sights lay in a compact area that was again very quiet—does Hungary have a monopoly on calm?—and we walked to most of them the next day: a cathedral, an early Christian mausoleum, a history museum, an old mosque. . .
. . . also a synagogue, and a pretty fountain with characteristic Pecs "blue glass."  We saw few other tourists. A very good meal at Enoteca Corso Restaurant along the central pedestrian mall finished our visit.
Then on Saturday, back to Budapest. At one point we passed a sign for Mohacs, the site of a fierce 1526 battle in which Suleiman the Magnificent defeated Hungarian forces. We probably should have stopped, but we weren't sure what there would actually be to see, so we kept going.
Up, up, this time to the city of Buda, facing Pest across the Danube. We had some cleanup touring to do in Budapest: see the famed Gellert baths and visit the National Museum. After that, we walked through the now-familiar streets across the Chain Bridge to Buda, once again taking the funicular up the hill. Our street, Uri Utca, was filled with stately, historic homes, but we had little time: early Sunday morning we had to fly back to Amsterdam and home.
And now, an Op/Ed
After a short trip, particularly the first to an area, one is left with various free-floating impressions. Here are a few of mine.
The Hungarian language is totally unrelated–words, syntax, grammar, everything–to those of its German, Latin and Slavic neighbors. It is only faintly related to Finnish and Turkish. These are facts. How does linguistic isolation shape national psyche?
Hungarians are reputed to be superbly hospitable; unfortunately the short-term tourist misses authentic interactions with locals.
I was impressed with the intellectual climate in Hungary: frequent signs advertising classical concerts and lectures, and a conversation with a Gentile man who walked us around Budapest's Jewish quarter with frank, honest explanations of Hungarian brutality.
In both Croatia and Hungary, people were friendly and spoke English (I hate needing my own language, but there it is).
We did run into a few cases of indifference among Hungarian tourism staff (a lingering effect of Communism?).
Both countries had excellent English translations on signs, much better than in Turkey, where non-native English speakers take on this task. The results made Hungary and Croatia look smart and sophisticated.
Neither country has the vast agriculture production of Turkey, even though Croatia's climate is similarly Mediterranean. Displays at roadside stands and in farmer's markets were sparse: cherries, a few apricots, tomatoes, melons and peppers. (I happily encountered some Turkish-like words: alma for apple and patlizsan for eggplant.) Restaurant meals did not feature many fruits or vegetables and, to our surprise, coastal Croatia did not offer much variety in the way of fish.
The more I think back on our trip, the fonder I grow. We traveled to places visited by  few people we know, requiring a certain focus and concentration. Now that we are familiar with Hungary and Croatia, I'd like to go back and enjoy them again — just as we would old friends.