On October 19, Sankar and I left for a 10-day visit to Turkey. As we boarded the plane, I was carrying a few worries. I had loved my years in Turkey, and had already set about preserving my memories through writing and photography. What if my old friends and the sights I encountered on this trip didn't seem the same? Would that overwrite my memories, changing the way I felt about the experience? What if I was overcome with sentimental sadness thinking about our former hilltop apartment, gone from us forever? That apartment was glorious, all the more so because we shared it with several dozen guests, and—five times—with our kids.
Maybe it would be best just to leave Turkey alone, to leave it as we remembered it.
But I guess we are optimists down deep, so off we went. The Delta flights through Paris went smoothly, and we arrived in Istanbul at approximately 7:30 pm on Sunday, October 20. Our neighborhood would be new: Ortaköy, a few miles south of where we'd lived. As our cab wound through its extra-narrow, dark streets trying to find our little hotel, I felt my sense of adventure awaken. Maybe in addition to revisiting friends and monuments, we'd learn something new.
Our little hotel was on Müvezzi Sokak, steep and straight as a pin up from the Sea Road at the point where the Çirağan Palace sits. We had a small room, but it offered a nice view of the Old City, the Bosphorus and even the Kiz Külesi (Maiden's Tower, far left in the photo) in middle of the harbor.
A buzzy jet lagged strangeness hit us on day one. We went down to breakfast and were reminded of the Turkish habit of drinking Nescafe, not "filter coffee" in the morning. The buffet's Western selections encompassed some nondescript flaky cereal, lukewarm milk, and orangeade. Alas, we weren't quite ready to embrace Turkish breakfast items like tomatoes, cucumbers, and olives.
Our first outing was to the Istinye Park shopping mall. I know this sounds shallow, but Sankar was after some new pairs of slacks—Turkish designs fit him so much better than those in States—and they would require time to alter. While he shopped, I wandered around looking for a gift for Angela, buying susamli fistik (peanuts with honeyed sesame seeds stuck on them) for Greg and some cifte kavrulmuş (twice roasted, nutty) Turkish delight for gifts.
We ate at our favorite food court restaurant, Kaşik-La (With Spoon), although I didn't enjoy it quite as much as I had hoped because my biological clock registered 4 am back in the U.S.
We noticed a newcomer to "our" mall.
I thought the mall trip would be all we did that day, but the weather was in the high sixties and sunny, and Sankar suggested we head over to Istiklal for dinner. I was hesitant, but it turned out to be the best thing we could have done; walking outside helped reset our internal clocks.
Istiklal is hopping even on a Monday evening.
 We had a lovely fish dinner on Nevizade Sokak, bought an edgy black top for Angela at a shop called Kiki Riki and finished the day with a milky pudding at Sutiş.
Which milky pudding looks best to you?
The next day we felt almost 100 percent better and started seeing friends–and eating–in earnest. An enjoyable long lunch with resident bon vivant Felicia was first. One food I couldn't wait to taste was borek, a pastry that involves egg-y noodles and white cheese, and Sankar brought me some late in the afternoon.
I ate the whole thing.
The next day we visited the Grand Bazaar with resident Turkish expert, photographer and friend, Linda Caldwell, stopping in to see Hasan Semerci of the renowned carpet store Adnan and Hasan.
That evening we met Sankar's secretary, Gökben, on the Asian side for a lovely Italian dinner. Here she is saying goodbye as we wait for the boat back to Europe.
It was late by the time we got back to the European side.
We spent a morning in Eminönü with resident crafts and shopping expert, Rhonda Rowbotham. When I think of Istanbul, I most often think of Eminönü and the fact known to all Istanbul expatriates that absolutely everything can be found "behind the spice bazaar."
Muffin papers, anyone?
On Saturday, the 26th we joined an American Research Institute in Turkey tour to explore Turkey's Hittite heritage. Our guide was Çiğdem Maner, a PhD in archeology who teaches at one of Turkey's most prestigious universities. Off we went with a group of about 18 others, some acquaintances and some new, and began learning about this ancient empire that was contemporary with the Egyptian Pharaohs. We spent the next few days visiting ruined cities that featured carved panels and lion, sphinx, and eagle statuary, and viewing distinctive animal carvings and jewelry in nearby museums.
Hittite relief at Yazilikaya, about 3,300 years old.
On Sunday evening we found ourselves in the Anatolian city of Çorum which coincidentally was where one of my Iraqi Christian students was living with her family. In the evening, we went to their apartment for tea and treats, walking through streets that were quiet, the air heavy with the residue of burning coal. At their apartment a two-hour conversation followed, involving advice for their new city of residence (they will be settled in El Cajon, a suburb of San Diego, in the next few months), and reflections on the situation in Iraq. We were immensely impressed with this highly-educated family's determination and enthusiasm. They will make superb new Americans.
All the hundreds of miles I've travelled on Turkish roads with nary a pothole has caused me to reflect (some say, rant) on American roads (and most specifically those in Minnesota). We were in a part of Turkey that has a temperature range of about 0 F to 95 F, admittedly not quite as broad as ours in Minnesota, but still enough to cause seasonal cracking and pitting. Why did we not see any of this? The answer is that the roads are built much thicker in Turkey.
Beautiful roads throughout Turkey
The underlayment that makes them possible
Back in Istanbul, Sankar and I decided to do some poking around behind the Topkapi Palace to find an ancient pillar we'd read about. We located the pillar, which was put up in the 400s CE to commemorate a Byzantine victory over the Goths:
After taking this photo, we noticed a fleet of white vans lined up, all with Japanese writing on them. Sankar greeted a couple of the waiting Japanese drivers in their language, and we walked away, puzzled. Later we realized that this was the day the Marmara Project, a railway tunnel underneath the Bosphorus, was to open. A Japanese construction firm has been working for years on this ambitious project. On this day, the Japanese Prime Minister and a number of other dignitaries were in Istanbul for the opening ceremonies.
We sat for awhile and drank tea in this obscure part of the Old City, enjoying a wonderful view of the ancient walls and the Sea of Marmara.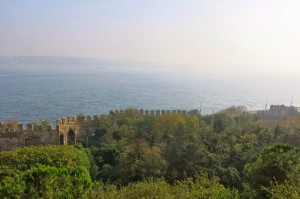 Poking around, I believe, always leads to something good.
Our trip finished on October 29, Republic Day. We sat in Levent Park and talked for an hour (in Turkish!) with our former cleaning lady and all-around wonderful person, Ayşe Alemdar.
.
Returning to our hotel room late in the afternoon, we noticed our window had been draped with the Turkish flag.
In the evening we walked to the Beşiktaş pier and watched a twenty-minute firework show that we both agreed was "Fourth of July times five."
Our friends had been the same, and the sights, both old and new to us, had been inspiring. It was a wonderful trip!