Well, I have apparently adjusted so well to Turkish food that I am overeating. I should have known it would come to this.
During my first year in Istanbul I was skeptical. I sampled but didn't really embrace savory items such as borek and interesting desserts like kunefe and kadayif, and I tried to resist the pistachios, almonds and cashews I saw all around me.
Flaky, cheesy borek
With repeated exposure, however, these Turkish favorites became mine as well. And added to the above list were homemade rolls kneaded with olive oil and stuffed with mild white cheese; eggplant fried with lamb and then stewed; and Circassian chicken, an intricate salad that involves bread crumbs, spices and chopped walnuts.
Over time, I learned where the very best varieties of these items are sold. That intrepidness deserves rewards — delicious ones — doesn't it?. And so I formed some peculiar assumptions about eating in Turkey:
1. Turkish food is so healthy (All those tomatoes, all that parsley, all the dreamy melons and tiny, melt-in-your-mouth strawberries!) that I can eat as much of it as I want.
2. I walk a great deal in Istanbul, and climb hills almost daily, hills I don't have back home. Therefore, I no longer need formal gym workouts, or jogs along the Bosphorus.
3. My Istanbul bathroom scale is in kilograms, which, as an American, I find mysterious. As long as the number is less than 100, I'm doing okay. Right?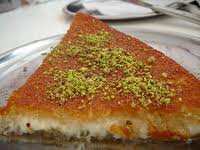 Kunefe: shredded phyllo dough baked with mozzarella-like cheese, topped with sugar syrup and fresh pistachios
The first sign that I might be drifting in the wrong direction came recently when, getting ready to attend a wedding, I put on a dress I had worn a year ago. It was tight not just in certain places, but all over, and it took me awhile to figure out why.
Perhaps, I decided, the dry cleaners had shrunk it. I love Denial-land.
It slowly dawned on me that I should probably weigh myself. So one morning last week I stepped on my (pounds) scale here in Minnesota. It was the moment of truth, and the scale proclaimed it in black and white. I had gained nearly ten pounds.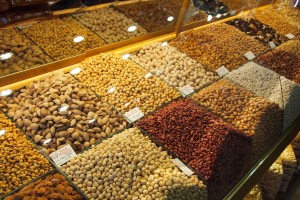 Nut and nutty snacks — in shops everywhere
So now it's small meals and scant snacks, and most of all, a drastic decrease in desserts.  I'm already down 2 ½ pounds—but the first few are the easiest. I'll be depriving myself of bagels, ranch dressing and trips to the Dairy Queen for weeks.
When I get back to Istanbul, I hope I don't fall right back into my bad habits. But if I do, I have only Turkish food to blame.